"What's my website load time?" … "Why is my site so slow?" … "How can I speed it up?"
These are questions I frequently get asked by clients whose author websites take a while to load. To help you figure these things out, here are seven things you need to know about website load time.
Facts About Website Load Time
1. There are a variety of factors that can impact website load time. Load time literally refers to how long it takes a page on your website to fully load for a user. That's the simple part. But what determines how quickly your website loads is dependent on a multitude of factors. Examples of some of what can speed up or slow down load time include:
Content or images on the page
The quality of the server it's on
The plug-ins you have running
Back end code
These are some of the primary pieces that can impact load time, but it's definitely not a comprehensive list. All of this is to say that speeding up website load time can be a complicated task.
2. Different pages have different load times. There's really no such thing as a site load time. Each page of your site loads independently, and each one has its own time associated with it. So, for example, your book excerpt page — which may have a large image in it that shows pages of the book — could take a whole lot longer to load than a shorter page with a quick author bio. Make sure you examine the load time on each page of your site independently.
3. Slow load time is directly related to user abandonment. Yes, there is a cost to having a site that takes a long time to load. Basically, people just won't wait for it. Check out this handy dandy chart, courtesy of Hobo.co.uk. It pretty much says it all.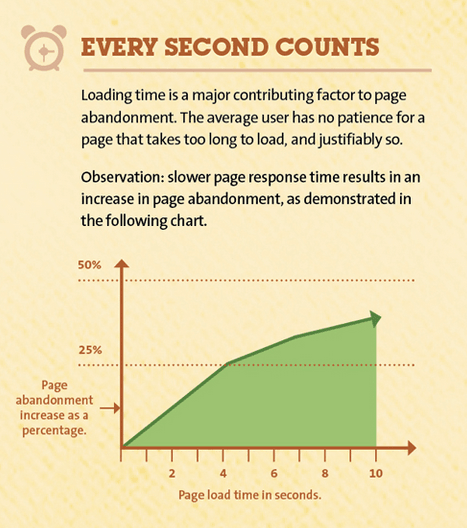 4. Website load time can be different on desktop and mobile. It's true. The amount of time your site takes to load on a phone may or may not be drastically different from desktop. In other words, if your site is mobile-responsive (which nearly every new site is), by definition it provides a different user experience on desktop and on mobile. Which means that one version may use plug-ins or formatting that the other doesn't, which can (of course) impact load time.
5. You can check/test your website load time(s). Yes, there are various tools that can allow you to do this. But the one that I find most effective is Google's Pagespeed Insights. Not only will this grade your site load times for mobile and desktop, but it will tell you what you're doing well and what you're doing wrong, with concrete direction on how to improve your site speed score.
6. Website load time can affect SEO, too. One of the reasons I recommend the Google tool for testing your site speed is because there's another hidden implication associated with slow site speed: a hit on your SEO placement. In other words, if Google deems your site to be too slow, it is also likely to determine that your site is a poor user experience and t's going to penalize you by making the site show up lower on search results. So making sure that you get the seal of approval from the Google site speed test serves two purposes.
7. There are simple things you can do to decrease load time. The process of speeding up your website load time may or may not be simple, but it's always start to smart with some of the lighter lifts before getting too in the weeds. Those include.
Optimizing the images on your site
Reducing the amount of content on specific pages
Uninstalling any plug-ins you're no longer using
If these simple fixes don't work, then you can start looking into if it would be helpful to have a developer reduce the CSS or JavaScript that is associated with each page. But first things's first: figure out what your load times are and try some simple ways to speed them up. Your users will thank you.